"Better to be than to have"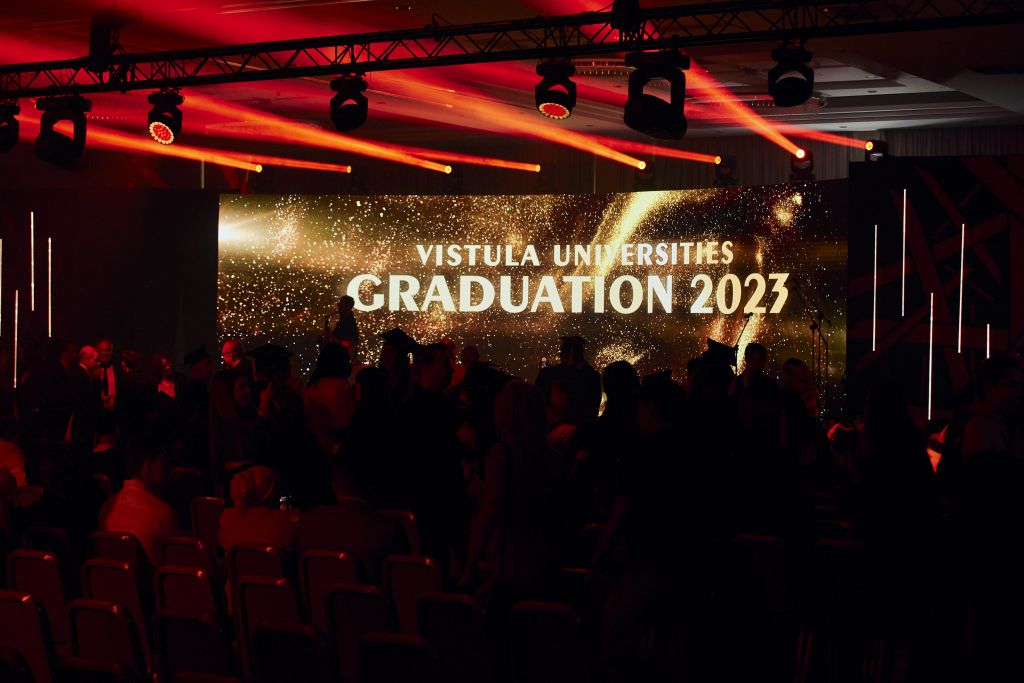 Another year of graduates are leaving the walls of Vistula University. Together, we have celebrated the end of the 2022/2023 Academic Year. Krzysztof Zanussi, an outstanding film and theatre director who was a guest of honour at the jubilee ceremony, addressed the young people with a message. – Remember, it's better to be than to have.
It was a beautiful and joyful evening. Graduates celebrated the end of the 2022/2023 Academic Year with their families and friends. During the ceremony, traditionally, congratulatory letters from the university authorities and awards for academic and other achievements were presented. – This celebration is specially dedicated for our graduates, but also lecturers have a reason to feel pride – said Professor Wawrzyniec Konarski, PhD, Rector of Vistula University. – From now on, you become not only ambassadors of your countries, but also ambassadors of Vistula University and Poland, where you have decided to study. The Rector wished the graduates good health, peace in their countries and in the world, and swift career development.
Professor Krzysztof Celuch, PhD, Vice-Rector of the Vistula School of Hospitality, expressed his joy that graduates are able to introduce innovations. "You are the citizens of the world, and you can now start to change it," he said.
Krzysztof Zanussi, an outstanding Polish film and theatre director, winner of numerous awards, gave a motivational lecture The artist shared with the graduates his concerns about the condition of the world. – If we destroy our planet, its natural resources, focusing on consumption and profit, we will stand on a precipice and perhaps destroy the humanity – said the director. It is better to be than to have – he argued and warned that success is only a facade. – Don't trust trivial solutions, look deeper, be cautious, be critical. Artificial intelligence and genetic engineering can make our lives better, but they can also lead to a catastrophe. It is your generation that will decide about the future of humanity, said Krzysztof Zanussi
[See the event broadcast on the Vistula's FB account]
After the official part of the event, there was fun and many attractions.
Thank you for participating in the Graduation ceremony. We wish you beautiful plans for the future!