Google Developer Student Club Vistula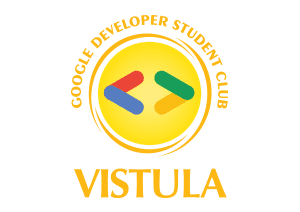 Projects and achievements
In this event we:
• Met Vistula IT Club and their plans.
• Got a chance to meet with GDSC.
• Learnt about what we will do.
• Applied the new learnings to build great solutions for local problems.
• Met the students interested in developer tech at your university.
• Had an opportunity to meet with Siray Albayrak who Technical Program Manager at Google.
• Had an opportunity to meet with Edip Senyurek who is Head of the Programmes of Studies Computer Engineering at Vistula University.
Hackyeah Hackathon 2021
• Learning opportunity
• Spark in innovation
• Professional networking
• Career planning
Club Manager: Edip Senyurek
E-mail: e.senyurek@vistula.edu.pl
Questions? Contact us!
E-mail: gdsc.club@vistula.edu.pl
Instagram: gdscvistula