Academic Club of International Relation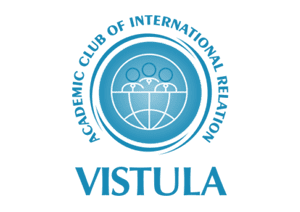 About us
The International Club (IC) specialises in organising various events connected with International Relations, Politics, and Economics. Joining the IC is a great opportunity for all the active and ambitious students, who want to play an important role at the Vistula University. Ready for the challenge?
How does it work?
Our actions and goals:
Comprehensively organising events such as: conferences, meetings, debates.
Participating in debates.
Participating in international conferences in Poland and abroad.
Getting to know interesting people from various countries.
Acquiring valuable experience.
Projects and achievements
Myths and Realities of Climate Change in the Age of Globalisation 2019
Climate change is not just about temperature and it does not have only disadvantages such drought and unemployment which lead to war, migration, etc. but advantages as well. We discussed can we stop, should we stop and how we stop the climate change with Peshang Hama Karim who has just completed his Master's Degree in Environmental Engineering at Warsaw University of Technology.
The Bahá'í Faith: Religion in International Relations 2019
From peace process to chais, religion is one of the most effective actor in International Relations. Dr. Kishan Manocha, the Senior Advisor on Freedom of Religion or Belief at OSCE / ODIHR introduced the The Bahá'í Faith. We discussed where this belief is coming from, by who, how it was spreaded, who are believers or followers, what kind of position has this belief in International Relations, etc.
IR Club – UNAP Panel Discussion: The UN and global challenges – can international organizations be a response to the complex problems of the world? 2021
• Panel Guest Speakers:
1. Paloma Cuchi, Ph.D., WHO representative;
2. Adam Bugajski, department director at the Ministry of Foreign Affairs;
3. Anna Hernandez-Połczyńska, Ph.D., Poznań Human Rights Center, Polish Academy of Sciences;
4. Iga Pocztarek-Tofil Director of the Department at the Ministry of Climate and Environment.
5. (Panel Opening Speech from) Bartłomiej E. Nowak, Ph.D., Chairman of the UNAP Program Council and President of the Vistula Group of Universities
UNAP Workshop: Complex Problems and Sustainable Solutions 2021
In this event, participants including IR Club members were inspired to think about the concepts of global wicked problems such as that of climate change, and then, each participant was given an opportunity to express their ideas about this topic and discuss them together with UNAP Staffs.
All Saints Day: The Myths behind Halloween 2021
The IR Club had its Halloween Colloquium about the origin and meaning of Halloween tradition. The main discussion of this event was:
• While people dress in costumes and ask for trick-or-treat to celebrate Halloween, do you know the ritual customs off All Saints Day and All Souls Day?
• Why and how do people celebrate these two holidays?
Calamity and Hope International Images from the Polish Road to Sovereignty 2021
Professor Damski took the seminar to the journey of Polish history towards the independence of their nation. In the end, the participants of this event were enlightened of why Poles special November 11th, the Independence Day of Poland.
International Human Rights Day Special Panel 2021
United Nations designated December 10 as Human Rights Day. To mark this occasion, the United Nations Association Poland invited Vistula University students to participate in the United Nations Association Poland International Human Rights Day Special Panel & Workshop. The event was prepared by the "Human Rights: Active Citizen" program, led by Aleksandra Krzykawska and Karolina Tulik.