Business & Human Rights in CEE & Central Asia. What's next?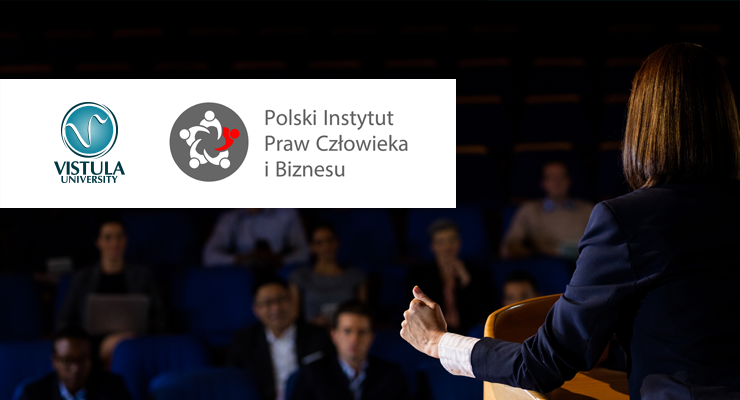 Vistula University and the Polish Institute for Human Rights and Business invite you to participate in an international conference Business & Human Rights in CEE & Central Asia. What's next? The event, held in English and partially translated into Russian, will take place on June 1-2 this year at Vistula University.
The Polish Institute for Human Rights and Business is an apolitical and independent non-profit foundation that works towards raising respect for human rights and propagating the principles of sustainable development in the context of responsible business conduct by influencing daily practices in the operation of enterprises and other organizations as well as the state policy and legislation.
The conference concludes a larger project aimed at creating an expert network in the field of human rights and business in Central and Eastern Europe as well as in Central Asia. It was based on a summer school organized by the Polish Institute for Human Rights and Business and the J. Mądry Ukrainian National Academy of Law in Kharkiv in cooperation with the Global Business Initiative for Human Rights, UNDP, ICRC and several other partners. The project was attended by representatives of non-governmental organizations and universities, as well as high-level specialists and lawyers representing various sectors from several countries.
The conference is part of the Lighthouse-keepers: Business and Human Rights Cooperation Network project. The program benefits from grants under the Active Citizens Fund – Regional Fund from Iceland, Liechtenstein, and Norway under the EEA Funds.
During the event, a new e-publication will be presented containing case studies in the area of Business & Human Rights, prepared under the supervision of international experts in this field.
The conference will be held in English. The sessions on June 1st and the work of one workshop group on June 2nd will be simultaneously translated into Russian.
Agenda DOWNLOAD
Participation in the conference is free of charge. You can attend in person or online.
Online registration is required.
Registration form:
https://tiny.pl/wz165
We cordially invite you to take part in the conference
Vistula University
3 Stokłosy, Str.
02-787 Warszawa