Daryna Antonenko, Belgia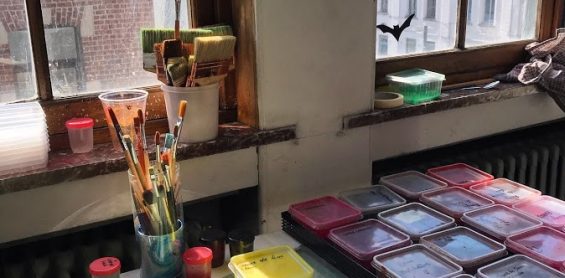 W Belgii przeżyłam coś, czego się zupełnie nie spodziewałam. Przez 5 miesięcy dużo podróżowałam i zdobywałam nową wiedzę – nie były to jednak zwykłe studia.
Wyjechałam do niewielkiego Tournai (70 tys. mieszkańców), które jest położone tuż przy granicy z Francją. To miasto było pierwszą stolicą Franków, a tamtejsza katedra jest większa od Notre Dame w Paryżu.
Byłam z koleżanką, Walerią, co było bardzo miłe. Prawie wszystko robiłyśmy razem — od załatwiania różnego rodzaju formalności, po podejmowanie decyzji, co zjemy na obiad.
Mieszkałyśmy u Caroline, rzeźbiarki, której dom był pełen sztuki. Brała nas na basen, do lasu, nad morze, na wystawy. Zawiozła mnie nawet do lekarza, kiedy chorowałam na anginę. Często przychodziła do niej rodzina lub znajomi artyści i wtedy brałyśmy udział w tych spotkaniach. Przez długi czas miałyśmy kłopoty z komunikacją. Nasza gospodyni oraz moi ulubieni profesorowie nie mówią po angielsku, więc musiałam nauczyć się francuskiego. Po czterech miesiącach mogłam już prawie prowadzić rozmowy z koneserami sztuki na wernisażach.
Nauczyciele w szkole są przyjaźni i bezpośredni. Wykładowca to po prostu przyjaciel, który pomaga. Mój ulubiony profesor z projektowania graficznego, zawsze przynosił nam tabliczkę czekolady lub jaja czekoladowe. Myślę, że wybierał je pod kątem opakowania, smakując czekoladę, analizowaliśmy design.
Tournai jest miłe i przytulne, wszyscy się tam znają. W weekendy mieszkańcy organizują zabawy i karnawały. Tęskniłam jednak za Warszawą. Nie jest tak wspaniała i duża, jak miasta na zachodzie Europy, ale tu mam aktywne życie, ukochanych ludzi i dlatego jest dla mnie piękna.
Jestem bardzo wdzięczną za wszystko, co przeżyłam w czasie pobytu w Belgii – zdobyłam wiedzę, ale także poznałam życzliwość ludzi. To coś niesamowitego, że ktoś, kto ciebie nie zna, przyjmuje do własnego mieszkania, jak swoje dziecko. Podczas pobytu podróżowałam, widziałam inne kraje i miasta – zrozumiałam, że na świecie jest jeszcze dużo nierozwiązanych problemów. W Belgii uświadomiłam sobie, że najważniejsze jest mieć swój dom i rodzinę.
Daryna Antonenko 2019