Dear Students, Dear Graduates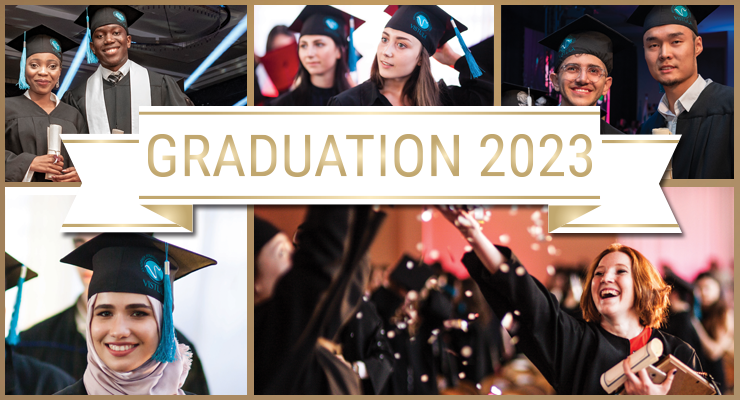 We are quickly approaching the grand finale. The Graduation 2023 ceremony, our great, joint celebration and a fantastic event are just ahead of us.
Let's be together on this important day and experience very special moments and unforgettable emotions.
You are warmly welcome. You cannot miss it!
The ceremony will take place on May 27, at 5 p.m. at the Hilton Hotel in Warsaw, Grzybowska 63 in the very centre of Warsaw. The ceremony will include many attractions both in the official and unofficial part of the event.
It will be a special anniversary celebration. All students of the final year of BA, MA and engineering studies at Vistula University, Academy of Aleksander Gieysztor, its Pułtusk branch, and the Vistula School of Hospitality are warmly invited to take part in this important event. We will also welcome with open arms students who graduated in 2020, 2021 and 2022 – in times when the Graduation ceremony did not take place due to the pandemic.
Even if you defend yourself later, e.g. in July 2023 or September 2023, you can attend the ceremony. This event is also for you. For all those who will defend themselves in 2023.
So, book your time, invite your family and friends.OPEN INVITATION Vistula University – here. OPEN INVITATION Vistula School of Hospitality – here.
Participation in the ceremony as well as in the photo session preceding it require registration and payment.
The fee is PLN 350 per person.
The fee includes unforgettable, lifelong memories, as well as:
a biretta with the University's logo,
a commemorative diploma,
photo session and a graduate's framed photo,
refreshments after the ceremony,
additional attractions.
Each graduate can invite up to 2 guests. The guest fee is PLN 350.
Detailed payment information will be sent to your email address.
Gown rental
Graduates who would like to appear in a gown during the ceremony, can borrow it on the day of the event at the Hilton Hotel. Please, be ready to pay PLN 100 in cash for a refundable deposit. The money will be given back to you on the day of the event on returning the gown.
Photo session
The photo session will take place in the University building, in room 209 on:
• April 14th at 10:00 a.m.- 5:00 p.m.,
• April 21st at 10:00 a.m. -5:00 p.m.,
• April 22nd at 10:00 a.m. – 5:00 p.m.
The number of places is limited
Due to the limited capacity of the facility, participation in the event depends on the order of registration and payment of the fee.
Remember to bring your ID with a photo.
You are kindly welcome.
It will a grand event! Let's celebrate it together!
See how we celebrated in previous years